Hello Friends!
So, last week I introduced my first Cutable SVG file and I got some great feedback. I've made some adjustments to this week's freebie, some sassy slingback heels, to make cutting and piecing the artwork together much easier.
Here's another short :46 second musical animation demonstrating the piecing process. You'll notice how the bows are separate from the shoes. That is so you have the option to add dimension to the bows by adhering a foam tab to the back of those pieces.
Watch it here!
For those cutting, you'll get the SVG file of these cute shoes. And, for those coloring, you'll get a digi-stamp version of the shoes which is a BW (black & white) PNG file!
When you download this file it will be accompanied by a "Read Me" text file with all of the copyright information. In short, please don't share and please credit me, Andy Bauer at The Digi Street, with a link back to my
shop
or my
blog
.
The
Slingback "Print & Cut"
file (which is already colored for you) is available at my shop.
To get this freebie, sign up for the
The Digi Street Newsletter here
and you'll receive a confirmation email with a link to download the files.
Perhaps you already signed up for the newsletter and you are on the list, then check your email. The newsletter was sent right before this blog post. If you didn't get an email, when you signed up for the newsletter, you may have typed your email address wrong. (It happens more than you think.) Simply sign-up again or email me.
And finally, if you enjoy my art, please vote for me for the
Top 100 Digi-Stamp Sites!
Thanks a million.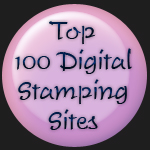 Happy Crafting!
Andy Bauer